Wheat harvest is sneaking up on us quickly, and with the wheat looking like it will be short throughout much of the country, this will be an excellent year to harvest with a stripper header so stubble can be left as tall as possible for next season's corn or milo crop. Research shows that moisture saved with stripped stubble makes a large difference in the amount of moisture retained for the next season. If you're planning to use a stripper header this harvest, here are a few things we look for when inspecting headers in our shop, to make sure they are ready to go in the field:
Check the condition of the fingers. When they are new, the keyhole area, which does most of the stripping, is approximately the size of a penny and is round. As they wear, this becomes elongated and doesn't strip as well. Also, the front tip of the fingers will begin forking, which is a good indication it's time to replace them. See the picture below which shows fingers that are in need of replacement.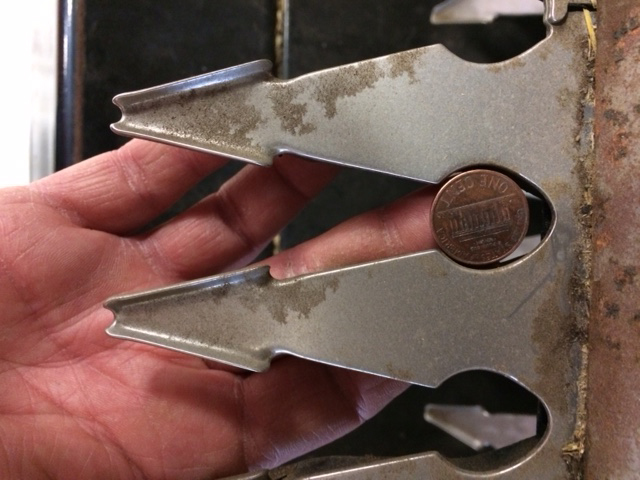 Change gearbox lubricants every year. The gearboxes on all Shelbourne headers should have the fluids changed before each season. The proper lubricant is 75W90 synthetic, which we have on hand.
Inspect the floor of the header under the auger as this can wear through on headers with lots of acres. We keep stainless steel floors on hand if you need repairs.
If your auger currently has retractable fingers in the middle, you can replace them with a paddle kit,which really helps the header feed better.
Take a hard look at the variable speed belt and sheaves. The sheaves need to be greased daily with a special grease. If not greased properly, it will cause them to stick or wear prematurely. Give us a call for advice on how to tell if things need replaced before you have problems during harvest.
Last, but not least, check the condition and adjustments of the skid plates. Make sure no holes are worn in the skids as they will drag up residue. With the wheat looking short this year, set the skids so that the stripper fingers are running 2-3″ off the ground with the skids touching.
If you have questions about getting your stripper header ready for harvest or are in need of parts to get you fixed up, give us a call at (785) 675-3201 and we would be happy to assist you!
We hope these tips will help you have a great harvest!
– The Team at Hoxie Implement Co., Inc.